That was something, wasn't it?
We can -- and probably will -- spend days, weeks, months and years arguing about whether or not the New England Patriots' spine-chilling victory over Atlanta on Sunday night in Houston was the greatest finish in Super Bowl history.
It was epic. It was unforgettable. And, I hate to say, it was a reminder that the NFL needs to change it's rules....
The Atlanta Falcons earned their place in the "biggest choke/worst loss ever" pantheon. But, they should have earned it AFTER having an offensive series in overtime.
New England won the toss prior to the extra session. Of course, the Patriots took the ball. Possession of the ball is the most important advantage a team can have in football. (Save me the 'Then why do teams defer their decision on the opening kickoff?' argument. You're better than that).
Yes, Atlanta had a chance to stop the Patriots. But, what if they coin toss had gone the other way? What if the coin had come up 'tails,' Matt Ryan had hit Julio Jones with a pass, a Patriots defensive back fell down and the Dirty Birds were going to Disneyland?
What if the Falcons' inaugural drive in the extra session sputtered after a first down or two and they were forced to punt? Would the extra rest have been a factor? Maybe.
I've heard the counter-arguments and I'm not impressed:
Rules are rules.
Atlanta had 60 minutes to win the game in regulation, which they failed to do despite a huge lead.
Atlanta could have had the ball. All they had to do was stop New England.
This is the Super Bowl. We're not handing out orange slices here, snowflake.
I'm not impressed. I'll ask the question that I asked on Twitter:
How is that game diminished if, after James White's touchdown, Atlanta got a series. New England forces a stop, drop the confetti. If Atlanta scores, we get to second-guess whether Dan Quinn kicks the extra point or goes for two and the win.
In just about any case, we get more excitement and more chances for players to be heroic.
Baseball games don't end when a team scores in the top of the 12th inning. Basketball overtimes aren't a "first team to score, wins" affair. College football's overtime is a bit long and convoluted, but it's infinitely more equitable than the NFL's setup.
The game last night was great. It could have been even better. The rule needs to change.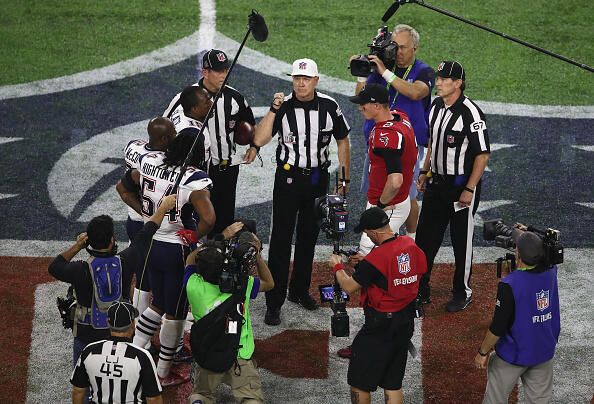 Photo: Getty Images